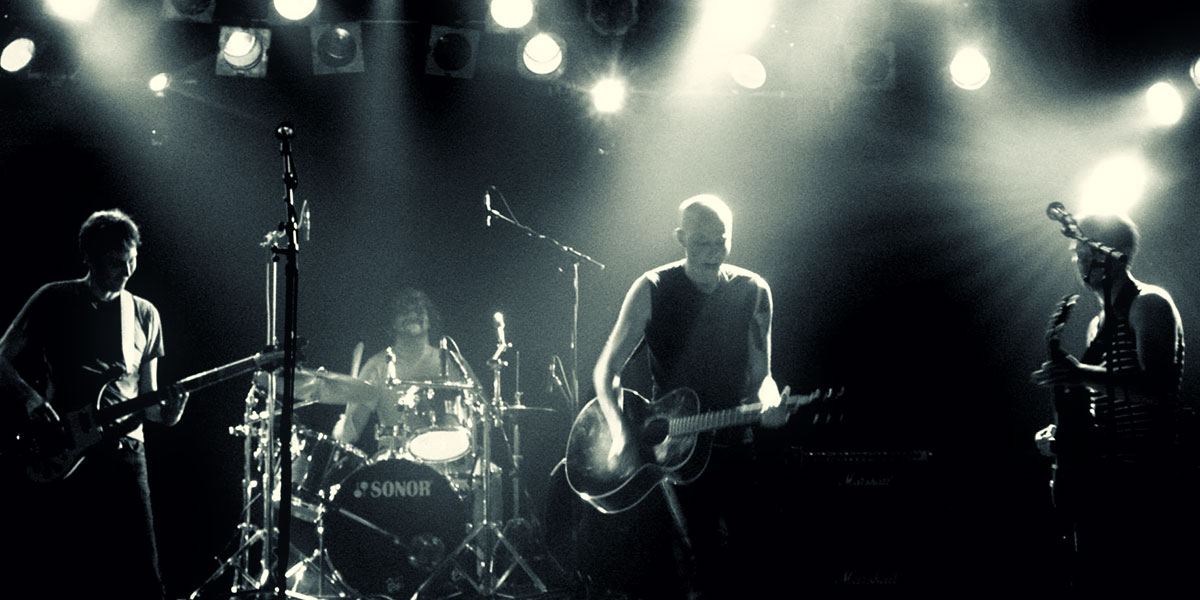 BIO
The band was born in the summer of 2006 and got nominated as "best unsigned band" at Manifestgalan 2007. Roots Rock Rebel Promotions (Germany/UK) said that TOUAB is a band that has the roots of punk fused together with sublime acoustic riffs and the live shows are something that has to be seen and we at Suicide Records can do nothing but agree.
During the fall of 2007 Suicide Records released TOUAB's self-titled debut EP.
LINE-UP
Joel Segerstedt – vocals, guitar
Makkan Johansson – lead guitar
Andreas Ohlsson – drums
Thomas Meyer – bass
FORMER MEMBERS:
Jens Lager – lead guitar
Mattias Värmby – drums
CONNECT!
INTERVIEWS
A band that will be recognized – The Open Up And Bleeds. Today we want to introduce you four gentlemen from Stockholm.
(Answers by Joel Segerstedt; singer, songwriter and guitarist in The Open Up and Bleeds)
Allow us to take you on a journey back to the year 2006 – the decision that leads to "The Open Up And Bleeds". What was the main reason that lead you to name your band after a song from the Stooges? Would you consider the Stooges as your role models?
No, not exactly role models. We don't have any role models. Role models usually turn bands in to copies. But, I've always loved Iggy and Stooges so they're definitly a big influence, and that song is great! I love the desperation in those lyrics. It really captures what I wanted to do when I started this band. Something true, straight from the heart. Something dripping with blood and crawling in the dirt. Something with fangs.
The song "Open Up And Bleed" stands for itself. A song filled with desperation, self-hate and yet it still contains a bit of hope. In which way do you yourself relate to the song?
The main thing Iggy (and that particular song) influenced our band with is the raw action. We want the live experience of rock'n'roll to come across as something bigger and more important than our lives. Big feelings. Presence like there's no tomorrow! I hate phony rock'n'roll acts standing still and trying to look cool when Iwatch them live. I want the ugly truth, the revenge of the unwanted!
Could you tell us a bit about the origin of "The Open Up And Bleeds"? Would you consider you are playing music together is fate or is it more a chain of coincidents?
A chain of coincidents, combined with a great vision though. I mean, when I was younger I started bands with my nearest friends and we all thought we could change the world together, that we came together by fate, but we couldn't even play…When I started this band I actually started it as a solo project, being so tired of former bands never getting serious because the friendship and getting drunk was more important than the music. I mean, I still like getting drunk while playing our songs, but it's no longer the main reason why we stick together. When starting this band I asked friends (and friends of friends) that are musicians that I love and admire to join this band. And it haven't been simple to stick together and keep this machine going, because all of the members really love music and are playing in lots of bands at the same time. I think that's because we all love all kinds of genres and are restless people. So we all want to do everything at the same time! The drummer dropped out of the band for a while because he was so busy. And the original guitarist isn't in the band anymore. Not everyone can handle this band… It is a war machine! It is an act of love and violence.
Your quote "It is an act of love and violence." gets one excited for more. How should we imagine a perfect "The Open Up And Bleeds" concert? Do you get any feedback from the fans after a show? And how would you describe it?
It was a friend of ours that called our songwriting "an act of love and violence" and we really liked it. I think it really captures what we're trying to communicate in a good simple way. A perfect concert are when we get kind of scared by ourselves, loosing control, feeling ecstatic. When the music comes out geniunely from our stomachs, not our brains. When the beat is in our bodies. We don't have that many "fans". But we have noticed that a few people enjoy our shows. We're happy as long as we win atleast one person in the crowd over to our side when we're playing.Some people hate us. But that is a good thing. I hate myself too sometimes. And atleast that is a true feeling.
You are signed under the "Suicide Records- sounds of silence". Why did you decide to work with this particular label? Would you say that they support you more than any other label? And in which way?
Yep. We released our first EP via Suicide Records. A small Swedish independent label. They don't have any money, but they tried to help us anyway because they really liked our music. They found us on myspace and contacted us. The first single from our upcoming album called "Stiv Bators in all of us" was released through Sounds of Zilence. That's not really a label. It's just friends who wants to help good music to be spread through friends and networks. They are just music lovers basically. Good guys. We don't know how our new album will be released yet. It's getting easier and easier to do your own digital distribution through websites like Spotify and iTunes, so we're thinking of releasing it ourselves that way. But if any label is interested to help us in some way, we're up for it, as long as they are in it for the music not the profit. It would be cool to release the album on vinyl or cd also. We're not signed to any label right now. We have only signed up for one release at a time when we've released something. We like to think that we stay independent in that way. Our main goal is to get out on the streets and play live as much as possible. We're a live band. Playing live is what we love the most.
Our reader can´t wait to get a little insight info to "The Open Up And Bleeds". So could you please give us a shrtntroduction?
I think my answers above gives an introduction good enough… If you like dark rock'n'roll filled with angst and great rythms and melodies straight from the heart – We welcome you to step in to the world of The Open Up and Bleeds. Cheers Joel
EDITORIAL
What or who do you think of, when you hear "The Open Up and Bleeds"? Words like open up or bleed cause some grim thoughts. After intensive listening to the album, I just feel very enthusiastic about it. Enthusiasm about an album full of strength and passion called "An act of love and violence"
What we got here, are four life-experienced men who got together in Stockholm in 2006. Together they created that what they represent with each and every song of "Open Up and Bleeds": profoundness that tell stories.
Joel Segerstedt's voice is the special something about the band. I cannot and also don't want to compare them to any other band out there. I'm sure, "The Open Up and Bleeds" won't be too disappointed about the fact that are incomparable and do not fit in any common scheme: they are just unique.
Furthermore this album shows so many different facets… it surprises its listeners with many fast, but although many quiet and intensive songs. The sound, no matter if ballad or hard rock riffs reminds us a little bit of the 80s.
If I imagine a live show of "The Open Up and Bleeds", I would think of a live open air on a deserted place somewhere out in Stockholm. Small crowds would circle around the stage and burst into this exceeding sound. An atmosphere that turns every summer night into something unforgettable. The instrumental part with bass (Thomas Meyer), lead guitar (Markus Johansson) and drums (Andreas Thunmarker) is great. Together with the voice of Joel they make the sound round. Unsurpassable!
The Songs "I Don't Wanna Die", "The End", "Lets Go Back To Modernism" and "This Noise" certainly belong to the more rocking songs of the album and ensure your feet will move around. The other songs are quieter and give you food for thought. These are songs like "Ok Is Not Ok"and "Cut Me A Live One".
The album "The Open Up and Bleeds"created here, is a real masterpiece of art. Therefore it's quite easy for me to introduce my favourites. Especially two songs took hold of me. In these two songs we could find all qualities of the band combined. With 3:33 min of pure passion in Joel's voice, "In the darkest hours" keeps you tied up. You can even sense what he wants to tell you. "Stiv Batorsin All of Us" is just well. When I listen to this song, I just want to stand up and dance around. And I'm sure; I'm not the only one.
What does this album command? Buy it! Without guilty conscience. It won't disappear in the depths of your cd-rack.
RELEASES